Our Environment
Set in 62 acres of scenic bushland in beautiful Hervey Bay, our environment is an idyllic place to learn, play and thrive. The natural environment also enhances our contemporary learning spaces, where students have access to outdoor classrooms. Our playgrounds favour wood over plastic and encourage nature play and risk taking.
FCAC students can always find quiet, shaded spaces during breaks to socialise with friends or access our library, multipurpose facility or any of our three ovals. With our student population spread out over an expansive campus, students will experience a peaceful ambience that supports their learning and wellbeing.
About FCAC
With an atmosphere of care and a supportive community, we provide the region's highest quality learning environment that enriches the body, mind and spirit of our students.
We nurture an effort-based culture where we prioritise relationships and high standards. Each student is challenged to be their best, to grow in character and to share their unique skills in serving others.
In 2022, Fraser Coast Anglican College was recognised as Australia's Regional School of the Year.
Our Vision
Empowering our community for the building of a better world.
A Word
From our Principal
"Whilst our school consistently achieves strong academic outcomes, our focus is on developing the character of our students.
We are preparing students to be successful in a disruptive and ever-changing world. When your child graduates from FCAC, we want them to have had meaningful experiences and developed skills that will endure a lifetime."
Student Life
Programs and Community
At FCAC, learning is not restricted to the classroom or the curriculum. Our extensive extra-curricular program provides students with a range of experiences to foster their interests, develop their skills and ignite their spirit.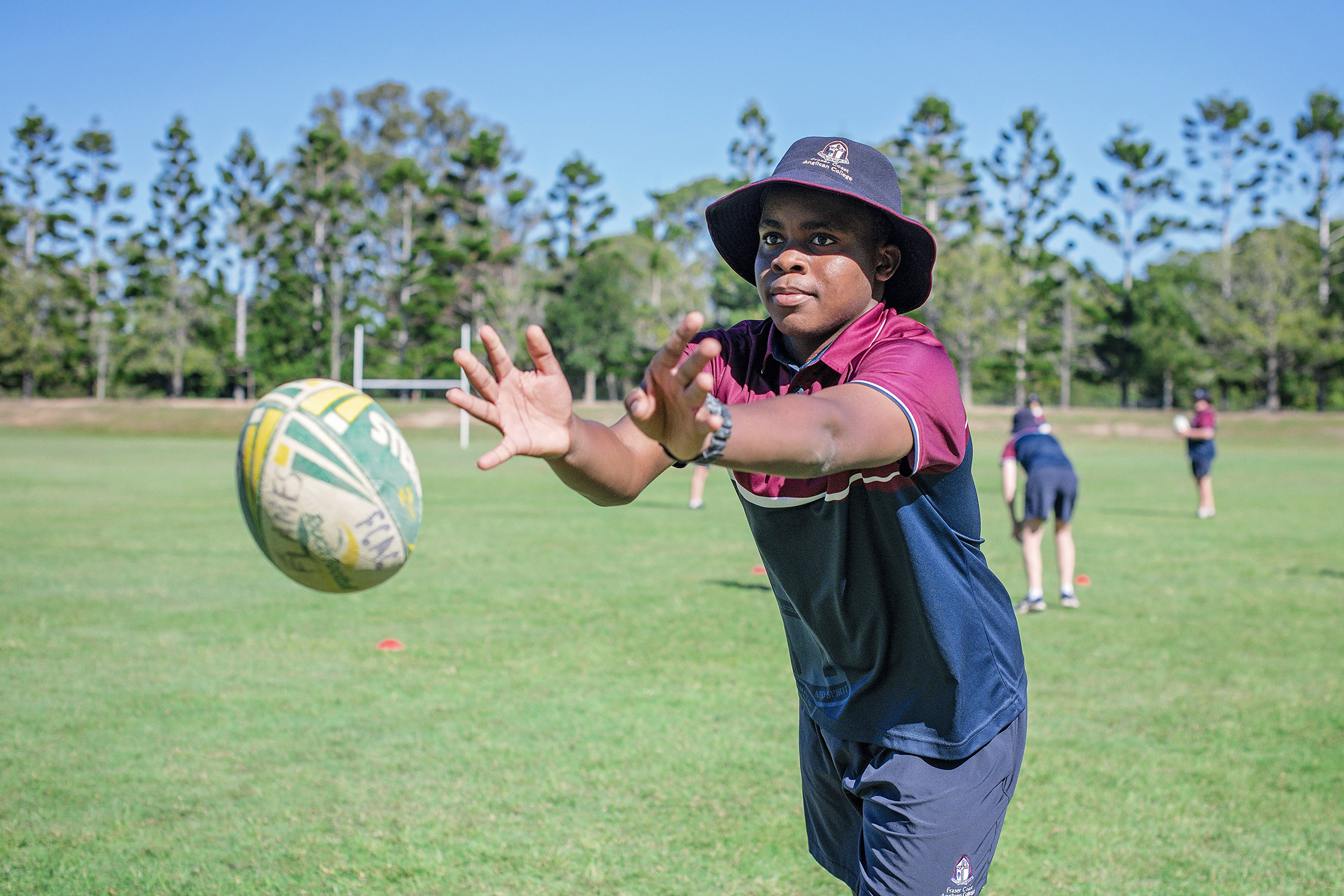 Visual & Performing Arts
Our Visual and Performing Arts Program provides students with the opportunity to express themselves through music, dance, drama, visual art and media arts. Through our extra-curricular program, students can hone their skills and experience the thrill of performing live in a range of contexts.
Sport
At FCAC, we value physical activity and sport as an integral part of a holistic education. The College's inclusive Sport Program is a combination of intra-school, inter-school and club competitions that caters for players of all skill levels.
Outdoor Education
Our Outdoor Education Program challenges students to step out of their comfort zone in the backdrop of the stunning natural environment of our region. Experiences are designed to build relationships, develop resilience and appreciate nature.
EDGE Program
At FCAC, we are preparing our students to have the Edge in a modern workforce by developing the skills that industry tells us will increase their value in a modern workforce. Available to all Year 7-10 students, the Edge program provides students with a wide range of programs to choose from and opportunities to break free of the constraints of the curriculum.
Parents and Friends
The P&F works alongside the staff of the College to create a positive and inclusive College community for all families.

Get in Touch
Main Administration Telephone:
+61 7 4124 5411
Koala Kindy Telephone:
+61 7 4197 9342
Address: Doolong South Road, Wondunna Qld 4655
Koala Kindy:  7:30am to 6pm
Prep – Year 2:  8:25am to 2:45pm
Year 3 – Year 6:  8:25am to 3pm
Secondary School:  8:25am to 3:15pm
ABN: 47 775 788 180 | CRICOS Provider: 01592G
The Corporation of the Synod of the Diocese of Brisbane T/A Fraser Coast Anglican College